Bra Size Guide
Here are some guidelines for how you should measure in order to choose the right size for your CrystalBra.
You need to measure:


1. Circumference just under the breast line
2. Circumference straight across the breast line at its largest point
To get the right band size, use the value of the measure number 1.
Example: If you have a circumference of 74 cm, it means that your band size is 75.
In this table you can find out which band size corresponds to your measure number 1:





To get the correct cup size, you have to calculate the difference between the two measures.
Example: If your circumference across the breast line is 91 cm, it means that the difference
between measure 1 and 2 is 17 cm (91-74). This difference corresponds to cup size C.

In this table you can find out which cup size corresponds to the difference between your measures number 1 and 2: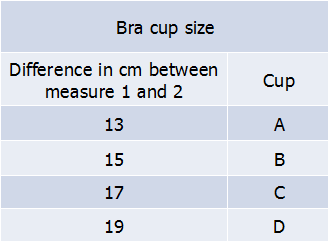 If you already know your band size and need converting, here is a conversion table:
Some tips:
Washing advice
Because the bra is filled with sequins and beads it can't withstand machine wash.
If the bra is stained, hand wash it. Treat it very carefully because it is very sensitive.